Pressroom
Fort Collins-Based Conundrum Coffee Launches Nitro Cold Brew
For Restaurants And Bars
FORT COLLINS, CO (August 9, 2013) — Local coffee roaster, Conundrum Coffee, launched its newest product to Fort Collins foodies this week. Conundrum Coffee Nitro is now available in kegs, debuting at the Lyric Cinema, Pateros Creek Brewing Company taproom, and Domenic's Bistro & Wine Bar.
Why coffee on nitro?
"Conundrum Coffee Nitro is cold-brewed coffee served on a nitro tap," said Conundrum Coffee Roast Master, Erik Williams. "The result is a caffeinated, non-alcoholic beverage with a smooth and creamy mouthfeel and the complex flavors you want from a high-end coffee. It's a unique beverage experience that most people haven't had yet. People really enjoy watching the coffee crema form a Guinness®-like head, and then slowly cascade down the glass."
Fresh, cold-brewed coffee poured from a nitrogen tap is one of the latest artisanal coffee trends. Conundrum Coffee Nitro is among the first such products in Colorado. "We want to open people up to all that really great coffee has to offer," said Williams. "Our area is known for its beer culture and craft brewing. With this product we're bringing the craft coffee experience to the consumer in a way that is familiar yet unexpected."
Conundrum Coffee Nitro: A Unique Blend
The team at Conundrum Coffee has taken special care to create a custom blend just for this debut release.
"We selected the beans for Conundrum Coffee Nitro based on their specific flavor characteristics and the mouthfeel they contribute when served cold using a nitrogen gas mix. Our natural process Ethiopian Yirgacheffe is one of our customer favorites because it offers a juicy, blueberry nose — and the Colombian we selected adds sweetness and body to the brew. Combined in precise ratios, the two coffees make for an exciting taste experience.
The final beverage boasts a bright yet creamy flavor profile, while packing a caffeine punch that is similar to a double shot of espresso.
Now Available at Three Local Favorites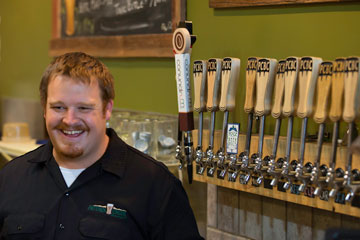 Three local establishments have joined the launch, adding Conundrum Coffee Nitro to their draught list.
The Lyric Cinema Café will be serving up the drink at the premier of its own first film production, entitled "Whensday." The film was produced entirely by a cast and crew from Fort Collins — and movie-goers will be able to taste the locally brewed Conundrum Coffee Nitro while they watch.
Pateros Creek Brewing Company is serving Conundrum Coffee Nitro alongside their taproom beer lineup, offering the coffee straight, and as a mixer for the brewery's beers. "This is a great addition for Pateros," noted Pateros Creek owner Steve Jones. "Served straight, Conundrum Coffee Nitro is a great non-alcoholic option for our taproom guests. And mixed with Pateros beers, it adds a robust flavor with a caffeine kick."
At Domenic's Bistro & Wine Bar, the chic new drink will be a perfect complement to the cuisine and dining experience. "We're excited to offer something totally new here," said owner Brian Tessari. "We're also featuring Conundrum Coffee Nitro on the menu of our upcoming wine dinner at Vincent Restaurant later this month."
Scaling Up to Supply the Front Range
Conundrum Coffee is partnering with LoCo Foods Distribution to deliver kegs of coffee from Fort Collins to Denver and Boulder. Sales Rep Alex Cousins was an early convert: "This is a great way for Conundrum to branch out. My clients already love Conundrum's fresh-roasted coffee beans — I'm excited to offer them something new to serve on tap. It is a natural fit for Colorado's beer culture and a great way to experience coffee."
About Conundrum Coffee
Conundrum Coffee is designed to appeal to coffee connoisseurs and novices alike. Founded in 2012 in Fort Collins, Colorado, the company sources the highest quality green coffee beans and creates unique craft roasts that bring out the very best flavors.
Ideal for multiple brewing techniques, from cold brew to espresso, Conundrum is the coffee roaster that encourages you to experiment with your favorite brewing method. For additional information about Conundrum Coffee, visit http://conundrumcoffee.com or follow Conundrum on Facebook at https://www.facebook.com/ConundrumCoffee.
Contact:
Matt Irish, The Bean Team
matt@conundrumcoffee.com
Note: High resolution photos available upon request.